OUR STORY
Don Welch founded Rochester Hydraulic in 1974 as a hydraulic jack shop in an old gas station on Mt. Read Blvd. After several moves and changes, in 1993 the company was reorganized as Cylinder Services, Inc. under the co-ownership of Don, Scot Anderson and Marty Lathan. Together they were determined to bring a higher level of quality and responsiveness to hydraulic cylinder and pump service in the Rochester area.
The company began to expand rapidly and in 1995 moved to its present 22,000 sq. ft. location on Rochester's west side. The three owners are in the shop every day making sure our customers receive the best service possible. Business has increased steadily and Cylinder Services is widely recognized as one of the premier hydraulic shops in Western New York.
Scot Anderson, our Service Manager, was trained as an aircraft mechanic and began rebuilding hydraulic cylinders in 1984. His years of cylinder service have made him one of the most knowledgeable hydraulic men in the area.
Marty Lathan, our Machine Shop Manager, was trained was a machinist in the early 1980's and has been making precision parts for hydraulic equipment since 1988. His quality conscious shop turns out the best fitting parts possible.
In 1996 Cylinder Services became a stocking distributor for Prince Manufacturing, a large midwestern manufacturer of hydraulic cylinders, pumps, motors, and valves. We have since become a Master Distributor of Prince hydraulics to many companies in our area. Contractors, municipalities, refuse haulers, industrial manufacturers, mines and quarries, as well as a number of other hydraulic shops and equipment dealers have come to depend on Cylinder Services for hydraulic components and support.
FACILITIES
22,000 sq ft. modern machine shop, 2 minutes from I-490 on Rochester's west side.
Map of 900 Maple St Rochester, NY 14611-1634
REPAIR SHOP
Faster turnaround, Professional repair, Thorough testing, Tuxco 20,000 ft-lb cylinder disassembler/assembler/torque bench.
18″ x 14 ft. honing machine, all hydraulic drive, Sunnen head
Miller TIG and MIG welders
100 ton H-frame press
3 High pressure hose crimpers up to 2″ 6-wire hose
2 hydraulic testers – 3,000 PSI, 30GPM
MACHINE SHOP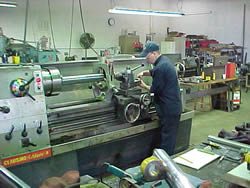 We can refurbish or manufacture almost any part – we don't wait for factories!
6 Engine Lathes, including Le Blonde 24″ x 12ft. with 9″ hollow spindle
Miltronics 22 x 60 CNC lathe
2 Milling machines
4 Band saws
15Hp, 20″ Abrasive saw
INVENTORY
CHROMED ROD
We stock thousands of feet of precision ground chromed rod in over 70 sizes and types, from 1/4″ to 6″, including hardened and Metric sizes.
DOM TUBING
Many sizes and wall thicknesses – we can retube most jobs from stock
BRONZE
Dozens of sizes of cast bushing stock for precision fit bearings.
CHROMED OD TUBING
Most common sizes in stock for hollow rods.
SEALS
We stock hundreds of sizes and types, including metric seals: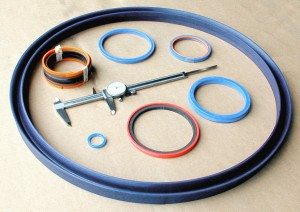 O-rings (we carry virtually every size)
Piston rings and bearings
Most sizes of Hallites's 621 super rod seals
Over $100,000 in seal inventory